ESTABLISHED IN 1999
Celebrating Over 20 Years
Thornhaven's southwestern Santa Fe style reflects the natural landscape of the semi-arid Okanagan climate, where dry grasses, cacti, sagebrush and Ponderosa pine thrive. Perfectly designed for wine making, the winery's unique structure allows gravity to transport the fruit juice from the crush-pad to the cellar, eliminating the effects of pumping.
AT THORNHAVEN WE HANDCRAFT THE FINEST QUALITY OF WINES
Thornhaven sits on Little Giant's Head Mountain, with a spectacular view of both Okanagan Lake and the magnificent surrounding mountains, an area many people have likened to Tuscany.
We have a total of 18.5 acres in three vineyards planted to Pinot Noir, Pinot Meunier, Merlot, Orange Muscat, Pinot Gris, Riesling, Sauvignon Blanc, Chardonnay and Gewurztraminer. We use both French and American Oak barrels and stainless steel tanks to accommodate the discerning tastes of those who enjoy an oak taste and those who do not. With the help of our admired consulting winemaker Christine Leroux and our cellar master Jason Fraser, we produce 34,000 litres, about 5000 cases of wine a year.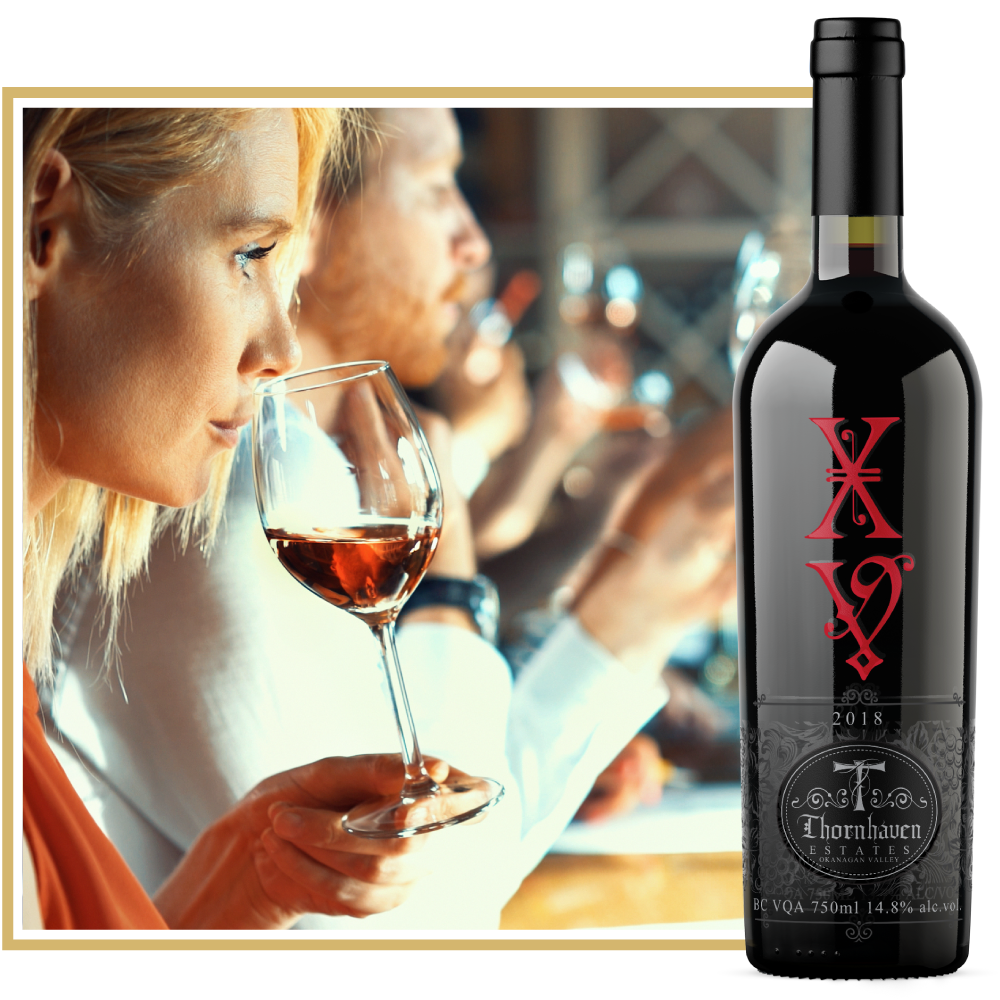 XV | 2018
Years Of Tradition In One Bottle
Celebrating Over 20 Years Of Fine Winemaking
Syrah based with cab franc . Smooth and soft medium bodied with notes of ripe plum and cherry. Pairs well with meat dishes.
$34.00Add to cart
"Little did we know, we've never worked harder in our lives and now our whole family is fully engaged in every aspect."
Explore Our Crush Pads Unique Gravity Fed System.
Stainless steel tanks and French and American Oak barrels are used to create our distinctive handcrafted red and white wines. Cellar Master Jason Fraser and wine-making consultant Christine Leroux together create some of the finest award-winning wines around.
Every aspect of the wine creation is overseen by the Fraser family, from the delicate art of the growing stages right through to the final stages of the finished product.
Great care is taken at our winery to ensure we only handcraft the finest wines. They are produced from six diverse vineyards located around Giant's Head Mountain. Together, our 18 estate acres and 16 purchased acres produce our distinctive wine list.
Our wines include plantings of: Gewurztraminer, Pinot Gris, Chardonnay, Sauvignon Blanc, Riesling, Viognier, Pinot Noir, Pinot Meunier, Merlot, Gamay, Syrah, Cabernet Franc, Cabernet Sauvignon and the rare Orange Muscat.
Elevations • Okanagan Lake 355 m • Summerland Town 479 m • Thornhaven 500m
Newsletter Sign Up
Join our newsletter list to find out about our BC Wines, Summerland Winery Events, Sales, and more.